Back to WATERS Crowdicity Community
USP's profile
Activity for USP Digital & Innovation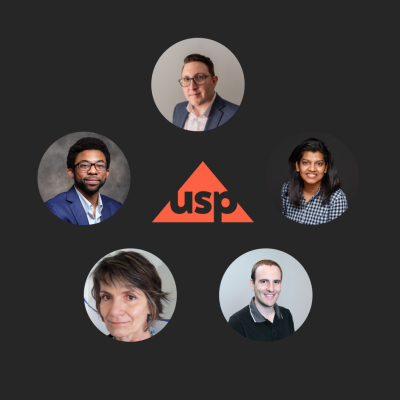 USP Digital & Innovation
Rockville, United States
Bio We are a team within USP's Digital & Innovation division that lead innovation development and incubation efforts in technology and informatics. Team members include: Brandon L. Barrett, PharmD, MS - Senior manager/innovation developer, herder of cats, self declared polymath, champion of human centric and intuitive design. Christopher Dunn, MS - Senior data scientist, graphical database wizard, analytical chemistry lab veteran, musician, ninja (like, an actual martial artist). Deepika Katta, MS - Senior prototype developer, creator (she's new to our team, so I can't pick on her too much!). Aline Martinez, BFA, MLS - Taxonomist, organizer of the things, people connector, info extractor, artist. Andrew Grothen, PharmD - Data guru, clinical pharmacist, amateur enterprise architect, OCD like a boss, provider of vast amounts of varied knowledge. Sean Tepper - Senior web developer, UI/UX specialist, professional creative, applier of polish, maker of pretty and intuitive things.
I am registering as an...
Organization/Team
Are you a federal government employee?
No
My organization / company develops...
Digital solutions